Welcome to our family of faith!
Sundays
 9:00 a.m. – Adult Bible Study
10:00 a.m. – All ages
Wednesdays
4:30-5:30 p.m. 
      – Clothing/Food Pantry
      – Hot Meal 
Saturdays, 10:00 a.m.
      – Women's Prayer Group
Want to know God but don't know where to start?
Daily Bible reading can help you know God. Join millions of believers across the world in daily scriptures.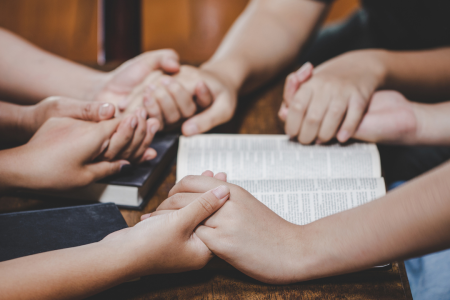 We believe in the power of prayer and the power of corporate prayer. What a joy to join fellow believers across our city to pray for revival!
Opportunities to Pray at KCN:
Sundays, 8:30 a.m.
Wednesdays, 5:30 p.m.
At the Kailua Church of the Nazarene, we are discovering what it means to be a place of grace and peace. You are invited to come and experience God's grace and join the ohana of believers.
What's a Nazarene?

The doctrine that distinguishes the Church of the Nazarene and other Wesleyans from most other Christian denominations is the believe that God calls Christians to a life of holy living that is marked by an act of God, cleansing the heart from original sin and filling the individual with love for God and humankind.
Can I bring my kids?

We love kids! Our worship service is for all ages. We begin in service together for singing and fellowship, then you have the option to send your kids to a child-focused activity for the remainder of the service.
Where do I park?

We have two parking lots on either side of the main building. Our paved lot (on the Kailua town side) has easy access for those needing assistance. Our grass parking lot can be accessed on the Kaneohe side of the church through the chainlink gate.
What should I wear?

We want you to feel comfortable at the Kailua Church. We are very casual. Come as you are. 
What is the culture like here?

Services at the Kailua Church are casual and encouraging and include an opportunity to connect with God through prayer and scripture reading. Come as you are and expect to feel welcomed as our guest.
How long is the service?

In total, a typical service is approximately 60-80 minutes. Services begin with worship songs. The lyrics are projected onto the screen so you can sing along and/or engage however you feel most comfortable. After the worship portion of service is complete, one of our pastors will come out to share a message about Jesus.
Can I attend if I'm ________?

Fill in the blank. You are welcome as you are. No matter your age, race, or background, everyone is welcome at the Kailua Church. When you step through these doors, you're not only welcomed where you are, you're family.